Don't try to tailor your plant to any old support structure. Tailor your support to your plant and really show off those assets. Remember, no big lady looked good in an undersized garment! Many people start by looking for a garden arch, arbour or trellis feature and then look for any old plant to grow over it. It seems to be the 'conventional' way of doing things! However, why not try the unconventional way and break the mould?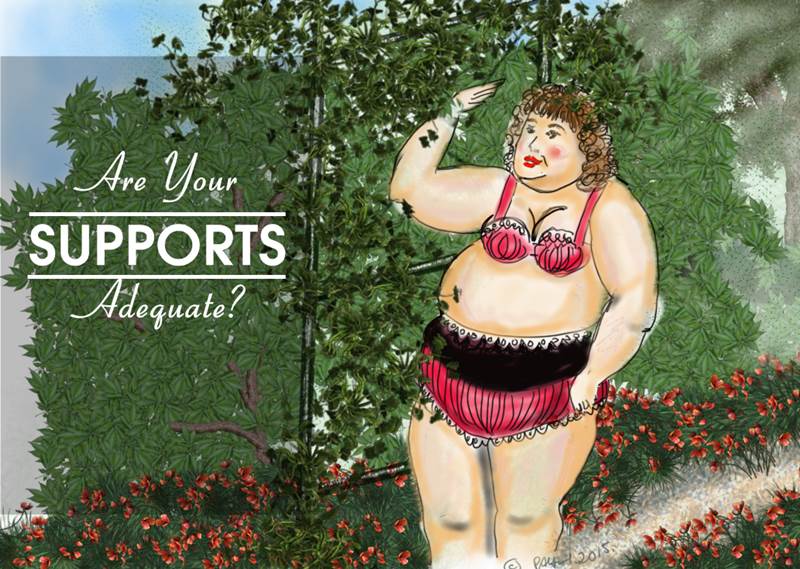 Aim for success by thinking about the type of plant you want to grow. Then find an appropriate arch or arbour to support it. Avoid the frustration and disappointment of a mismatch between your plant and it's support by following these guidelines.
Here's an analogy …
An attractive but rather curvaceous woman haughtily entered a lingerie store. "I'm after some shapewear", she said, looking down her nose at the pretty young sales assistant.
"I need something to hold all my 'bits' in", she said grinning. "Men do love a curvy woman"!
She was in a hurry, and from the corner of her eye she spotted a racy little red number on the first rack. "This will do", she thought, snatching it off the rack.
"It looks like it will do the trick", she said as she flung it on to the counter.
The wide-eyed salesgirl looked at her somewhat stunned. She could see at a glance that this rotund woman would struggle to fit into the 'miraclesuit'.
"Not even a real miracle could pull that one off" she thought to herself. Furthermore she knew the woman was not someone she could convince otherwise. The garment was at least two sizes too small and even if she could get into it, it would do nothing more than 'redistribute' her 'assets' to other areas. Doing little for her at all.
Will your plant's support do the job?
Unfortunately, the example above is how many people go about buying garden arches for their garden. They start with the wrong 'corsetry'. What happens when you grab any garden arch, arbour, or trellis without any consideration of your plants size? You just want something pretty, right?
Many people buy the first thing they can find. Usually a pretty garden arch with scrolls on the sides. When they get it home it's usually just wide enough to fit over the path but it's not very deep. It's also very flimsy. They then plant a pretty rose next to it and wonder why, when it's grown, it doesn't look as good as the pictures on the plant label.
Are you setting yourself up for disappointment?
Let's start by using the example of a climbing rose over a 30cm hardware store arch. As it grows, you may find that you'll have to trim it to fit the narrow structure or if not, you'll be left with canes bobbing about in the wind as there's nowhere to tie them. It looks messy, bedraggled and even wind damaged. It starts to become high maintenance with all the trimming, tying, and pruning. Blooms are few and far between.
Secondly, not all roses are made equal. Some may not grow canes more than 2-3m long and others, bless them, will cover the front of an entire house. The chosen arch ends up with one side covered and the other bare, or alternatively it ends up lost under a mass of thorny shrubbery – and all those pretty bits of scrollwork you liked on the arch, and paid extra for … what a waste of money, they're all covered! Walking through the arch is a challenge, getting through without being scratched by sharp thorns.
Deciding on the garden feature –  be 'unconventional'
As a gardener, I'm assuming that the plant is what you want to feature. Am I right? If so then break the mould. Be unconventional. Give what you plant some thought.
How big will it grow?
Does it suit your climate?
Do you have the time to prune and pamper it?
Have you planted it in a spot it will thrive in, e.g. roses don't grow well in shade.
Once you have those things covered, make the most of your plant by giving it the best possible support it needs.
Five things to consider when buying a garden arch, arbour or trellis
How big is your plant going to grow?
How wide?
How tall?
Does it have tendrils, like jasmin or clematis, or canes like roses?
What will best support it – mesh or more open trellis bars?
Three steps to Choosing a Farmweld Garden Arch
Start by going to the Garden Arch page. Choose the:
PROFILE – Round top, Classic or Victorian
SIDE INSERT:

Mesh for plants with tendrils, e.g. jasmine, clematis, etc OR
Trellis sides for plants with canes, e.g. roses, bougainvillea, etc.

DIMENSIONS, the height is usually a standard 2.4m above ground (with extra allowance for concreting into the ground. Think about how big your plant is going to grow, upwards and outwards (the spread). Let us know the:

Width (side to side); and
Depth (front to back
Show off your garden's assets, give your plant the best support you can and she'll reward you with a wonderful display.
---
To view Farmweld's range of garden arches visit the GARDEN ARCH PAGE
---
Get in touch for a free, no obligation quote today!