Commission brief
We were approached by the owners of the new Landscaping and Design Centre on Glen Osmond Rd in Adelaide, to build a unique fence and wrought iron gate. They wanted something contemporary rather than traditional as their display centre had some unique modern landscaping layouts.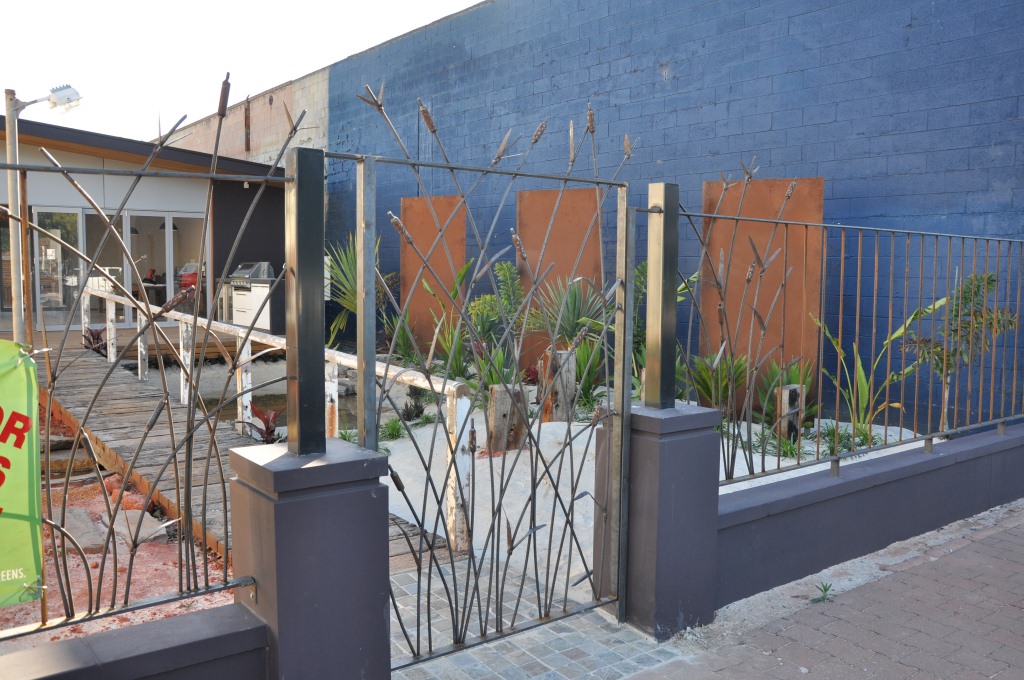 The client had the concrete plinth and posts installed and gave us the measurements so we just needed to design fence panels which would offer security and also be attractive – catching the attention of the passing traffic. It was decided to leave the metal raw, so that it would age organically and blend with other sculptural features in their centre.
Making the panels
The frame and bars of each of the panels were made to size. Then the artistic part of the work began on the ornamental panels which graced the ends of each of the three fence panels and the gate. The bull rush design had to look 'organic' and 'natural'. As the panels were so large each panel had to be marked out on the floor and the design roughly sketched out. First the stems were welded into place, at various angles and heights. It actually took some time to get the right look as we didn't want them to look like a bunch of bars that had just been thrown onto the ground randomly.
Then the leaves were forged. Each one different, as they are in nature.
The bulrush heads were cut to length, ground and textured. Attaching the leaves and bull rush heads couldn't be done on the floor as the leaves were to add a three dimensional look to the panels, so each panel had to be lifted and brought into the workshop and held upright. As the panels were so long (about 4m each) and heavy we needed the help of our front end loader. The leaves were batched into their respective lengths and arranged so that each panel would have a mix of what looked like 'new growth' and 'old' leaves, long and short.
Once all the panels had the stems welded in place the bulrush heads were arranged in their permanent  places. Then the leaves were clamped where Trish our creative director, wanted them and they were welded in place.  The leaves were still very straight and lifeless so they needed to be sculpted and shaped so under Trish's direction, each forged leaf was tweaked by Andrew to make every piece more likelike.
Once they were done they were ready for collection, and off to their new home they went.